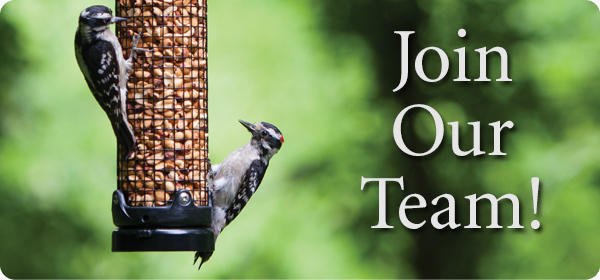 Are you our next great employee?
The difference between Wild Birds Unlimited and other retailers goes far beyond what we sell. It's who we are. Enthusiasm, professionalism, informed advice and superior customer service are the hallmarks of our staff.
We are seeking a Sales Associate with great retail and service skills. Working at your locally owned Wild Birds Unlimited store is an opportunity to support and educate our friendly customers about birds and nature.
Become a local expert on backyard bird feeding! With our one-on-one coaching, computer-based training, and our library of backyard bird feeding, bird watching and product knowledge materials, you'll learn everything about backyard bird feeding. We want to help you bring to life the store's mission - "We Bring People and Nature Together®...And We Do It With Excellence!"
Save big on birdseed with our generous employee discount.
Requirements:
Friendly, outgoing disposition
Appreciation of nature and passion for bird watching and the hobby of bird feeding
Strong verbal and written communication skills
Previous retail experience encouraged but not required.
A flexible schedule and the ability to work an occasional weekend are required
Commitment to provide quality products, service, expertise and a high energy shopping experience
Ability to multi-task and spend extended hours on your feet
Ability to lift and carry bird seed for our customers – a foundation of our service!
Basic computer skills
Our goal is to provide quality products, service, expertise and a high energy shopping experience. Help customers bring nature into their own backyards and lives. Come join our team!
Job Type: Part-time
To apply for the position please email your resume and your answers to the Application Questions to [email protected]. Use Employment in Subject Line.