Meet Our Team
Meet The Owners, Chuck & Alicia Brewer
Chuck and Alicia purchased the Chapel Hill Wild Birds Unlimited in September 2015.
Prior to store ownership, Chuck tested computer software for 20 years and Alicia worked 15 years for a commercial environmental laboratory. Chuck is a Connecticut native. Alicia is from Florida. They met in the middle, North Carolina. "The first thing I did when I moved into my house was to install a bird feeding station" Chuck says. Alicia jokes, "When I saw Chuck's bird feeding station I knew I had found the right man for me," being a bird watcher herself. They married in 2008 at Brewer's Forest, their home in Apex, NC. When they are not at the store, Chuck likes lounging on the back patio with Mason while Alicia works on her latest cross stitch, listening to true crime documentaries with Pete at her side.

2008; A sign of things to come? Wedding day at Brewers' Forest with Wild Birds Unlimited Advanced Pole System in the back ground.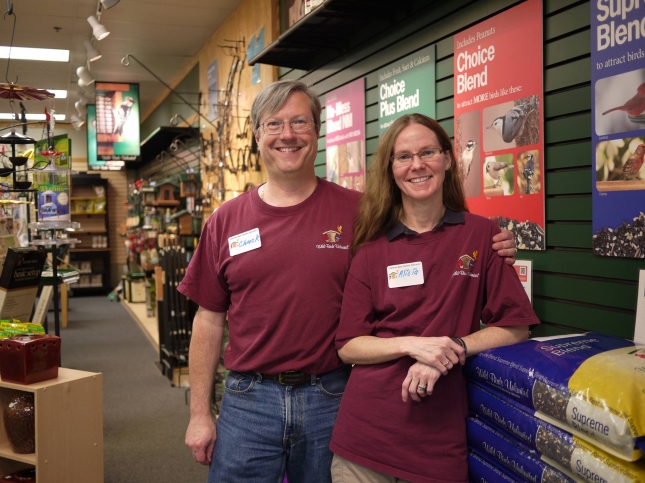 2015; Owners, Chuck and Alicia Brewer
Meet Jacob Reeve, Certified Bird Feeding Specialist (In Training)
Jacob is a student at Chapel Hill High School. He loves watching backyard birds, graphic design, and fishing. Jacob was born in Maryland but has lived in Chapel Hill since 2010. He has had bird feeders in his backyards his whole life and has always been fascinated by them.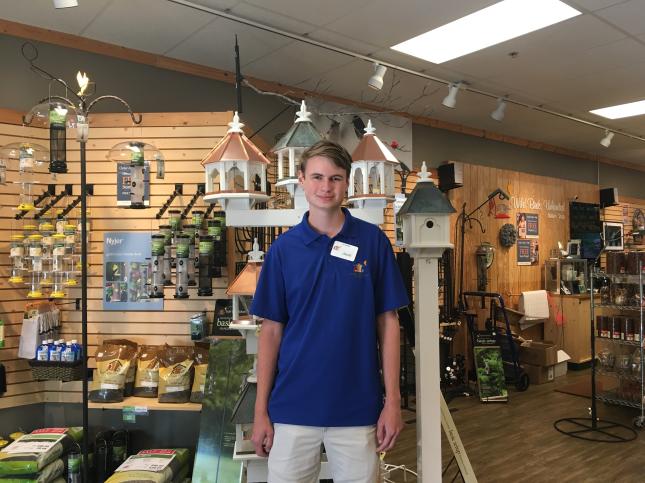 Meet Richard Turkheimer, Certified Bird Feeding Specialist (In Training)
Richard joins WBU having recently moved to Chapel Hill from New Orleans. His interest in birds was inspired by his wife, an avid bluebird and hawk enthusiast. He and his wife have been bird viewing in South Louisiana, the Peruvian Amazon, the Swiss Alps, and the Himalayan Mountain countries.

Meet Lori Carlson, Certified Bird Feeding Specialist
Lori is fond of critters who have wings, such as butterflies, moths, birds (especially African ravens named Grip), bats, praying mantises, and dragons. When she is not serving as a dedicated feline maintenance worker to four indoor cats, or assisting WBU customers, she operates a small nonprofit organization, Backyard Butterflies, with her husband. She is originally from Washington state. She has resided in Hillsborough since 2009.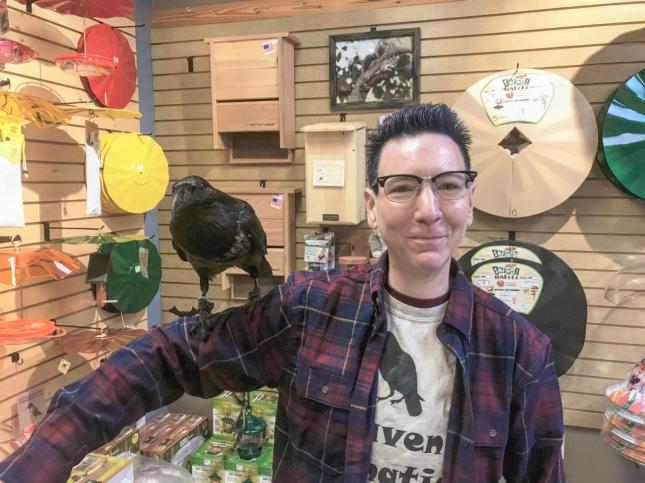 Meet Mason, WBU Dog Squad
Allow me to introduce myself. My name is Mason. I am a fluffy, Cardigan Welsh Corgi. I was born at Telltale, a small, private, home kennel located in Palm City, Florida and raised on Corgwyn Fields Lavender Farm. I came to be with the Brewer's when my owner aged out of being able to care for me. I have been watching birds since 2014! I look forward to bringing my knowledge to you in my monthly newsletter and visiting with each of you in store. Good birding! Woof!
Photo of Mason taken and shared by Margaretta Yarborough.
Meet Pete, WBU Dog Squad
If we have not met already, my name is Pete, aka Sweetie Petey. I'm an adorable Chihuahua, born in 2012. I have a slick coat and velvety ears. I LOVE greeting customers with tail wags and smiles and if you are lucky I might bring one of my toys to you for show. Don't be surprised if while browsing you feel my cold, wet nose on your ankles. My nose tells me your story. Be careful when you leave and enter the store during the late afternoon because I love sunbathing on the front door mat.