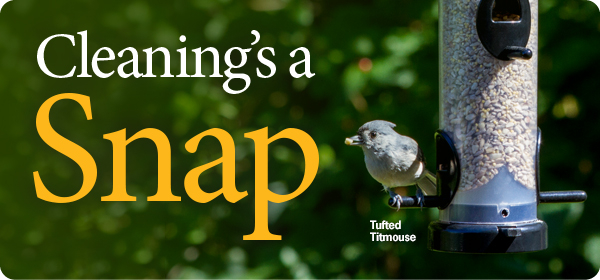 Are You A "Responsible" Bird Feeder?
If you enjoy feeding and watching your backyard birds, then you probably want to do as much as you can to practice your hobby safely and ensure the birds' overall health and well-being. Just as people can catch colds or other illnesses from people who are sick, birds that feed at crowded or dirty feeders have the potential to develop diseases that are harmful to them.
While the incidence of birds falling ill from feeders is small compared to other natural hazards birds face, there are things you can do to help your birds stay healthy:
Provide multiple feeding stations in different areas of your yard to disperse bird activity.
Provide seed from a bird feeder rather than scattering it on the ground.
Keep areas clean under and around your feeders.
Keep fresh seed in the feeder and be sure it doesn't get moldy.
Clean your bird feeders every four weeks, or more often if droppings have accumulated or mold is visible. Use a 10% bleach solution to disinfect all feeder parts by following these 8 easy steps*
*How to Clean Your Feeders in 8 Easy Steps
Empty your bird feeder of its contents. Discard wet, moldy bird food where birds cannot access it.
Use the spray nozzle on your garden hose to blast all surfaces of the feeder, remove debris, so the 10% bleach solution can be most effective.
In a 5 gallon bucket, prepare your 10% bleach solution (mix 1 part regular bleach + 9 parts water).

Ensure you are using regular bleach, not concentrated bleach or bleach containing additives

Disassemble and soak your feeder for 15 minutes in your 10% bleach solution. This is enough time to disinfect without damaging your feeder.
Scrub your feeder clean using your Wild Birds Unlimited 24" Feeder Brush.
Rinse your feeder with water.
Allow your feeder to completely dry. Reassemble and refill your feeder with fresh bird food from Wild Birds Unlimited of Chapel Hill.
Enjoy your birds.
For other tips or questions, stop by our store and talk to one of our Certified Bird Feeding Specialists.