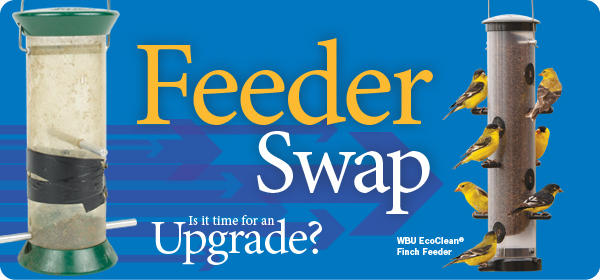 November Feeder Swap, 11/16/23 thru 11/30/23
Does your feeder have birds thinking twice before they visit? Trade in your old, worn out feeder for a new one during our Feeder Swap (details below). We offer a variety of feeders, and we can help you find the one that will accommodate the birds in your yard. Any repairable feeders will be donated to local schools and nature centers.
Birds have slowed down at feeders this time of year due to plentiful natural food sources available. Now is a great time to make sure your feeders are in top shape and food is fresh to give them that extra food source just in case. Filling feeders halfway with seed is an easy way to make sure your seed doesn't spoil in the feeder if you are experiencing little to no action.
Trade in an Old Feeder; Get 25% OFF a New One*
*Valid only at WBU Chapel Hill. One discount per purchase. Not valid with other discounts or previous purchases. Offer valid in-store only.
---