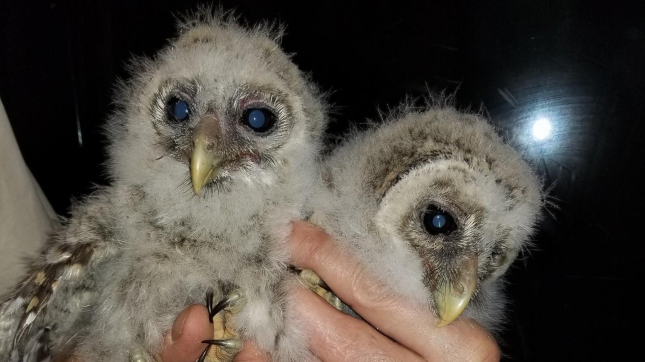 Baby Barred Owls found in Durham with no parents in sight. Thanks to CLAWS, Inc. they will be rehabilitated and released.
Saturday, May 26 at 11 AM - 12 PM
From now through the end of May, CLAWS, Inc. is holding a virtual baby shower, to be followed by a LIVE baby shower (slide show etc.) on Saturday, May 26th at our store from 11am to 12pm for orphaned wildlife.
Each spring, CLAWS, Inc. provides medical care and a safe refuge for hundreds of wild babies like squirrels, songbirds, waterfowl, and raptors. Many of the animals become orphaned when their parents perish or are unable to return to their babies.
Items from the CLAWS, Inc. Wish List* can be purchased from amazon.com and may be shipped directly to CLAWS, Inc. Or you can purchased locally and drop at our store for CLAWS, Inc.
We also have a list of TAGGED items in our store that the animals of CLAWS, Inc. need and can be purchased and left for the LIVE shower.
Cash donations may also be made via PayPal or in person at our store to help with the cost of raising babies.