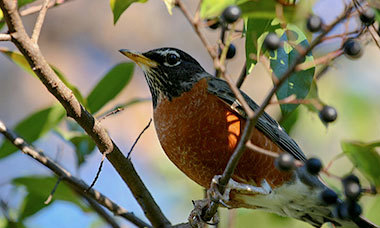 Photo of an American Robin on native Black Cherry Tree from New Hope Audubon Society Website
Creating a Bird Friendly Habitat
Saturday, March 24 at 11 AM - 12 PM
2018 is the Year of the Bird! March's Featured Action - Native Plants! Landscaped with native species, your yard, garden, patio, or balcony becomes a vital recharging station for birds passing through and a sanctuary for nesting birds. Take action by attending our program presented by Thomas Driscoll of the New Hope Audubon Society and get started "Creating a Bird Friendly Habitat" in your yard, garden, patio, or balcony.
Improving your habitat to attract even more birds is step 4 of Jim Carpenter's 5 steps to bird feeding mastery as outlined in "The Joy of Bird Feeding."
Seating is limited. You must call to reserve a spot. (919) 969-6778. Seats are first come first serve.