Chapel Hill, North Carolina
Alicia & Chuck Brewer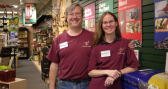 We're passionate about birds and nature. That's why we opened a Wild Birds Unlimited Nature Shop in our community.
Chapel Hill, North Carolina
1806 MLK Boulevard
Chapel Hill, NC 27514
Phone: (919) 969-6778
Email: Send Message
Store Hours:
Mon - Sat: 10:00 am - 6:00 pm
Sun: 12:00 pm - 5:00 pm


No-Mess Plus Blend
Available in 5 lbs and 20 lbs bags
No Shells
100% edible to meet your birds' needs with seeds, fats, and fruits
Attract ALL the birds with NO MESS
Features sunflower chips, shelled peanuts, chopped tree nuts, cherries, cranberries, Jim's Birdacious® Bark Butter® Bits, and added calcium, an important ingredient that helps promote strong bones and eggs.
Our unique No-Mess Blends feature seeds that have had their shells removed so only the meat of the seed is left. No hulls on the seeds makes for tidier feeding, since there's no debris on the ground to clean up. Pound for pound, our No-Mess Blends offer the best value, because you do not pay for uneaten seed waste. The birds eat everything. Great for use near flower beds, patios and decks.